Age – 40s
Concern – Sagging chin and loss of jaw line definition
Regimen – 14 minutes a day for 2 weeks
I am not a disciplined person, so I tried one pose while driving, watching TV or reading and to my own amazement I got great results.
Leslie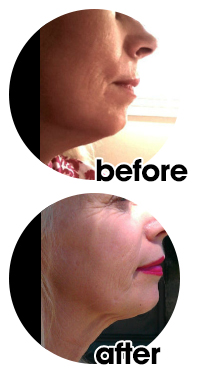 Concerns: Droopy eyelids, nasolabial folds, dark spots on face, sagging cheeks.
Tried 10 poses a day for 1 month and got a great results. My eyes open wider, and they are getting almost the same size. My skin feels much smooth and softer. I can tell my lips are getting plumper too. In addition to the exercise, I drink hot water throughout the day and do the yogurt face pack recommended by Fumiko
Yasuyo
My concerns are facial bloating, sagging face line and droopy eyelids. I tried the Face Yoga poses 10 to 15 minutes a day and after a month I saw the dramatic change on my face line. I can even feel that the extra fat on my face line is gone. 
Kazumi
Age – 30s
Concern – a double chin
Regimen – 10 minutes, 5 days a week for 4 weeks