Face Yoga, yes- yoga for the face- is rapidly becoming the go-to alternative to botox and other invasive procedures. When I first started teaching the Face Yoga Method, I saw its ability to change women's lives and unlock the highest radiance and confidence they had inside.

But after a few years and hundreds of clients going through my classes, I realized that I could offer more than just correction of wrinkles, but I could teach practitioners how to prevent them in the first place.

Face Yoga's climbing popularity can be attested to celebrity endorsements such as Jennifer Aniston, Meghan Markle, or even the Kardashians (read more about it HERE). But the practitioners of Face Yoga (I call them Face Yogis) know the true power and spectrum of what the Face Yogi Lifestyle can achieve.
Here are the most common results from women who practice the Face Yoga Method:
#1: It's Scientifically Proven To STOP Signs Of Aging…
"My whole face is lifting up and I am so thrilled with the results so far!" – Jessica
Just as you wouldn't put a band-aid on a flat tire and expect it to work, anti-wrinkle creams are not the solution. Creams and injections can only treat the symptoms not the deeper causes, and do not offer a long-term solution.

Unlike any other anti-wrinkle regimen out there, Face Yoga works for everyone because it goes more than just skin deep. People don't know that the skin is actually connected to the muscles of the face, and as you strengthen, tighten and firm the muscles through targeted Face Yoga exercises, you are also lifting and smoothing the skin.

Check out this thermographic image of a Face Yoga Method student's nutrient and blood circulation before and after doing "The Big O"™ pose for just 30 seconds: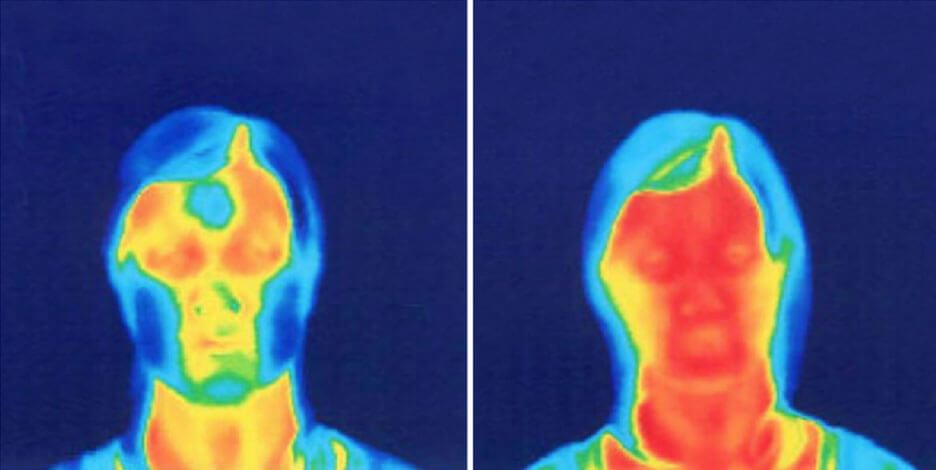 Recently, a Northwestern University medical study proved 20 minutes of Face Yoga "improved the facial appearance of middle-aged women".

Adding Face Yoga to your daily routine will plump lips naturally, smooth wrinkles, remove bags from under the eyes, and brighten your complexion so you can shine through your day with confidence!

"It really stimulates your face, giving a new, fresh colour and glowing mood. I love it" – Silvana
#2: You Can Reconnect With The Face In The Mirror…
" I am beginning to recognize myself in the mirror again. A tiny piece of me wants to cry with gratitude for that💗" – Dana
Imagine if your first thought of the day was one of peace and love for yourself – finally looking in the mirror in the morning and LOVING what you see.

You will step out into your day feeling confident, refreshed, and young because (like your beauty) your happiness will beam from the inside out!
#3: You Are Invited Into A Pro-Aging Community
"I wanted to say that Fumiko & the Face Yogis have given me more than just facial exercises … I could see and feel the old me coming back tonight. Face Yoga has helped with [my] stress, upset and pain." – Catherine
Life is great at throwing us off our track, and these hurdles tend to show on our face. When you join The Face Yoga Method, you are never alone. You are joining hundreds of thousands of women who share the same goals and are on the same path.

Sharing your fears, stories and progress, are all part of your Face Yoga Method Journey. Through our community of Face Yogis, you will feel love and be supported by hundreds of thousands of women who are all on a similar journey as you. The accountability you get from this online community will propel your success!
#4: Daily Self-Care Will Have A Big Impact On Your Stress, Confidence And Life…
"The more I take care of myself with love and kindness, the more I enjoy life and the more I like my reflection on the mirror. It has been an amazing journey!" – Isabel
Just like "regular" yoga, when you practice Face Yoga, you are correcting more than just what meets the eye. When you set healthy habits and make self-care a part of your day. You are committing to taking the time for yourself and allowing yourself to look and feel as young and radiant as you feel on the inside.

More often than not, women come to me and in the beginning, they aren't even able to say "I love myself".

This is why my programs have not only daily video tutorials, but I recommend additional activities that can help nourish the most important person in your life – you!
#5: You Can Start Getting Benefits Today…
"I love your energy and the way everything is so simple. Your poses really work, I have been following you for a while now, and when I do your exercises I can feel the muscles work and are tighter." – Jennifer
Check out THE TOP 5 FACE YOGA METHOD POSES
to start feeling the benefits right now!
In this 5 minute routine you will have:
Delivered vital nutrients to your entire face, creating a youthful glow
Undone damage and tightness from working at a desk or phone all day
Relieve stress from the neck and shoulders
Toned your entire face with Face Yoga!
Bonus: You probably laughed at yourself too!
---
Want more Face Yoga?
JOIN ME FOR A FREE ONLINE TRAINING THIS SATURDAY SEPTEMBER 21st!
Click the link below to receive your invitation:
Limited spaces available! Register and save your spot today!
I cannot wait to show you more of what Face Yoga can do for you! See you on Saturday!
PS: Are you a Face Yogi? Let me know your favorite result so far in the comments below!
---