28 DAYS
Neatly organized and easy to practice facial exercises
SUPPORT
Comments section where you can ask questions
PICTURES & VIDEOS
Professionally shot, downloadable videos and pictures
CHEAT SHEET
Printable cheat sheet to keep you organized
Human nature has been fascinated by symmetry for centuries. In history, the ancient Greeks were obsessed with symmetry and even today we tend to feel "comfortable" with and see "beauty" in symmetry.
After completing the 28 Day Jump Start Program For The Symmetrical Eye, you will find your eye area more symmetrical.
Most of us are born with a symmetrical face even if you have an asymmetrical face right now. To see it for yourself, take a look at your baby photo(s) when you were about 3 years old. If your eyes were symmetrical back then you will achieve a symmetrical eye area after this 28 Day Program.
When I was 24 years old, I was diagnosed with a strange congenital disease called arteriovenous malformation, only
1 out of 100000 have it. I was told by the doctor that I could become paralyzed from neck down but the 10 hour surgery went well; however, it left me with sensory paralysis on the left side of my body and lower muscle tone on the right side of my body.
My personal life was not going well either. I got married when I was 19 years old and had a baby, I lost the baby at only 2 months and a half due to the SIDS (sudden infant death). After getting divorced, I got married again at the age of 29 and gave birth to two boys. My second husband was extremely controlling and I suffered from domestic violence. I had lost so much weight that I looked like a skeleton. Around that time, I hated to look at myself, especially to be in photos, finally I decided to get divorced.
6 month after the divorce, I saw a few Face Yoga Method exercises on TV and saw that one pose had the potential to change the face dramatically. I got a goosebumps all over my body. I was so skinny due to stress and never thought that I could reverse the droopiness in my right side of the face due to the surgery.
Long story short – I took private lessons and became a certified Face Yoga teacher in Japan. For the first time in my life, I have a dream and a clear vision of what I wanted to do in my life. I love the way my face looks and feel so happy every time I look at my symmetrical face. My skin looks so much better and now I can even go out without make up or covering myself.
I have met so many new people through the Face Yoga Method. Now I am conquering my traumatic relationship with my mother and my ex-husbands. I would like to support people like me as a Face Yoga teacher and not only that, I want to learn more about aroma therapy and psychology. I think the biggest changes that I can see is inside, the psychological change.
Many people cannot believe that I am 39 years old. My friends tell me I had such an "unhappy face" before the Face Yoga Method. I also had a gummy smile but that is all gone! Thank you so much and I would be very happy if I can help others.
Symmetrical Eyes Jump Start
Lifetime Access to the Symmetrical Eyes Jump Start

Downloadable Cheat Sheet

Support
Face Yoga Method Program
Best Value
Lifetime Access to the entire program

 11 Modules

9 Routines

7 Jump Starts: All Over Jump Start, Forehead Area, Eye Area, Mouth & Lip Area, Droopy Eyelids, Symmetrical Mouth & Symmetrical Eyes

28 Day Challenge for the Neck & Jawline

Members-only Webinars with Fumiko

Download Exercises

Support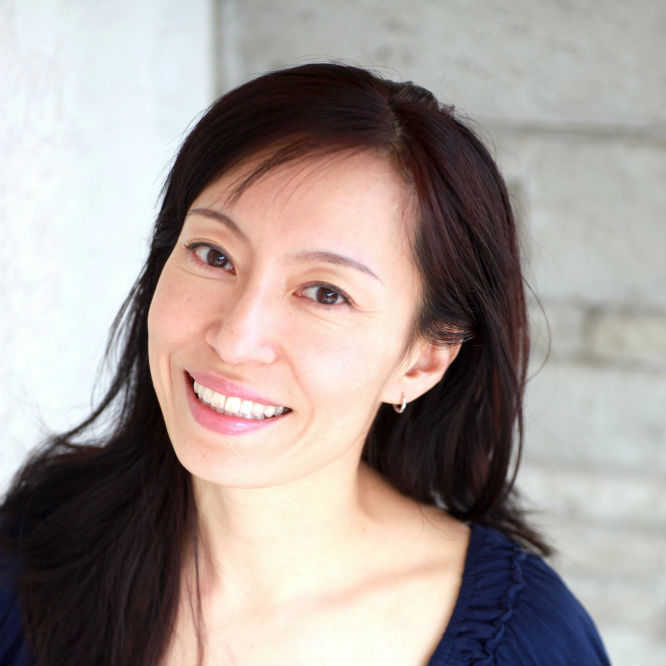 Fumiko Takatsu
Face Yoga Expert
Best-selling author and Japanese TV celebrity Fumiko Takatsu helps Face Yoga students everywhere discover their most beautiful selves – inside and out.

A 30-year yoga devotee, Fumiko created the Face Yoga Method after a car accident left her face disfigured. Almost a decade later, she has defied modern medicine and the effects of time, creating for herself a toned, youthful face that shows no evidence of aging or trauma. 

As a busy educator and mother who divides her time between California and her native Japan, Fumiko makes practicing and teaching Face Yoga a priority. 

Her glowing, natural beauty is proof the Face Yoga Method yields startling results. 

See you on the inside!