I'm Fumiko Takatsu,
creator of Face Yoga Method
I developed the Face Yoga Method
to help you walk with confidence
in the world.
I'm Fumiko Takatsu,
creator of Face Yoga Method
I developed the Face Yoga Method
to help you walk with confidence
in the world.
IN OTHER WORDS:
I'm here to make you
look young again.
---
Confidence isn't just about the way you look. However, when the person on the inside doesn't match the reflection you see in the mirror, that disconnect often times can make you feel shy, misunderstood and even embarrassed.
Let's rewind about a decade...
To the serendipitous event that started it all. I was an American-educated academic living in Japan, teaching English. At 36, I still looked pretty great and was convinced my youthfulness was invincible. Then, one day while vacationing in California, I was riding in the passenger's seat of a car and we got hit at high speed. The impact caused my hip, shoulder, and head to be thrown off-kilter. I'm lucky to be alive now.
I remember experiencing the shock of a lifetime when I got my driver's license photo taken after the crash and observed my asymmetrical face. It was difficult to look at myself. I panicked. I started to buy expensive facial creams, lotions and treatments, but none were helping me look young again.
Then one day, I was standing in front of the mirror and realized that if I exercise my body muscles, I should be able to do the same for my face. That's when Face Yoga Method was born. After practicing facial exercises for several weeks, people started commenting on my results. They said I looked younger and more aligned, and wanted to learn how to tone their faces too.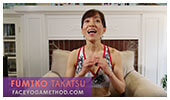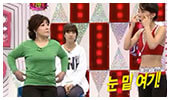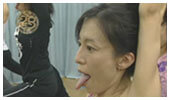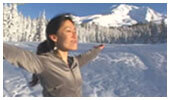 Best Selling Author of Face Yoga
---
I've written six books on Face Yoga, one of which became a national bestseller in Japan. I realized there's a great need for Face Yoga because women deserve to feel youthful both in heart and appearance.
Face Yoga is a completely natural alternative to anti-aging remedies. By practicing a series of facial exercises you can learn to tone the muscles beneath the facial skin and increase facial circulation and blood flow which results in a more youthful and radiant complexion.
---
Stay in touch
---
© 2021 faceyogamethod.com, All rights reserved.
There are lots of "Face Yoga" teachers and courses popping up with the growing popularity of this technique. Please know that only content found on our website, course pages, and social media platforms are Certified Face Yoga Method and created by Fumiko Takatsu. Any teachers certified in The Face Yoga Method are listed on our website. All other content is not approved and may yield adverse effects.
Face Yoga Method is a participant in the Amazon Associates Program, an affiliate advertising program designed to provide a means for sites to earn advertising fees by advertising and linking to amazon.in.