A double chin makes you look older and bigger even if your body is in good shape. One of my brothers who was in his mid-thirties started getting a double chin. He was exercising (swimming, running and playing soccer) to stay in shape but was not able to get rid of his double chin easily! He works in Japan, wears a business suit with a tie and he is in marketing and, as he is saying, needs to look "good" and "professional" for his work. He used to make fun of Face Yoga exercises saying that they were "for women" and the poses looked "funny".
But finally after all his exercises to reduce a double chin failed he asked me to show him facial exercises he could do. He did not try all the face yoga exercises I introduced in the 28 Day Challenge for Neck and Jawline but he did one pose everyday! To his surprise, he started looking slim even though his weight was the same.
I had many participants for "The 28 Day Challenge for Neck and Jawline" from all over the world. It made me surprised but also so happy to get so many people participating in the challenge! Many people have sent me their photos and questions/comments, and many were looking for the exercises that will help them get rid of double chin. I loved it!
At the end of the Challenge, I had to pick one person who got the most results from the challenge. It was VERY hard to pick one person. But I did it! In this blog, I would like to share the winning participant who got the best results in just 2 weeks!
Her name is Diana, she is 54 years old and below you can see and read her testimonials!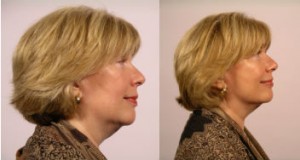 "My experience with the challenge was good. Because I had some residual swelling in my face from having had amalgam fillings, I was pleased to have some of that drain away, albeit unevenly at first.

My face feels more mobile and my eyes feel like they can open wider, leading to feeling less fatigue. It was interesting to find what places were tight and have them over time loosen and feel more comfortable and part of my face as a whole.

The other day I saw myself in the mirror and had the thought that I was looking more like myself. The Face Yoga Method is an opportunity to re-make ourselves in our own image. Such a gift."
It is your time! You can participate the 28 Day Challenge anytime. All you need is:
There are 28 videos, one to practice every day. I have people who are doing the 28 Day Challenge for the second time!! It is so FANTASTIC! Let me hear your story. Let me see your changes. I am getting more requests for another challenge so I have created a set of Jumpstarts for other parts of the face. Click below to find out more!
Have a great fall and see you next week!