I could never have imagined that I would get so many compliments on my skin after my mid-forties! I have just turned 49 years old in October 2017. And literally, I have never felt so comfortable in my own "skin."

In fact, I was so insecure about my skin when I was younger. I suffered from bad acne when I was in junior high school and I actually recall a friend of mine's mother telling me that I was cute but my skin was so bad. What a harsh comment to say to a sensitive teenager! After graduating high school, I covered my skin with heavy makeup. Did I like the makeup? No! But I didn't feel comfortable enough to go outside without it. It was not fun at all.
But now here I am, happy and comfortable in my skin and its because of my two secret weapons that protect my skin from excess sun exposure: hats and sunscreen!
I had a lot of sun exposure when I was younger, especially in my thirties. I enjoyed being outdoors and worshiped the sun too much! I still love being outside, but now with this knowledge that I have, I can enjoy the winter sun without any worries.
Hats as a Must-Have Accessorize
If you have been following me for a while, you have already noticed that I wear hats all the time, all year round: summer, fall, winter and spring! I have almost as much as 20 hats, from very casual beanies, straw hats with different colors, to more elegant looking hats.
Let's say it out loud. "I LOVE HATS!" I have more hats than shoes. I have more hats than pairs of socks.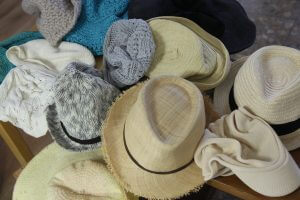 For me, hats have two purposes, practical purpose and fashion statement.
When I have a bad hair day I just put on a hat and I am ready to go out. I also feel so relaxed knowing that my skin is protected by my hat. I have so many hats in different colors that I can pick them depending on the color of my clothes and also my mood. Yes, not only hats can turn my bad hair day into a good day, they can lift up my mood and confidence. They are like my hair piece, they are part of my outfit. Without them, I feel naked.
The Important Factors in My Sunscreen Selections:
Fragrance-free, paraben-free, sensitivity-free and non-comedogenic does not sting eyes (I have had enough share of very bad experience wearing sunscreens that made my eyes so teary).
Lightweight, silky, and makes my skin looks good with or without makeup.
UVA/UVB sun protection and at least SPF 20, or even higher.
I like to reapply sunscreen multiple times a day to protect my skin from the sun. People so often think of sunscreen as something to put on in the summer only but it's just as important in winter too. So with that, here are two of my favorite sunscreens I wear all year round!